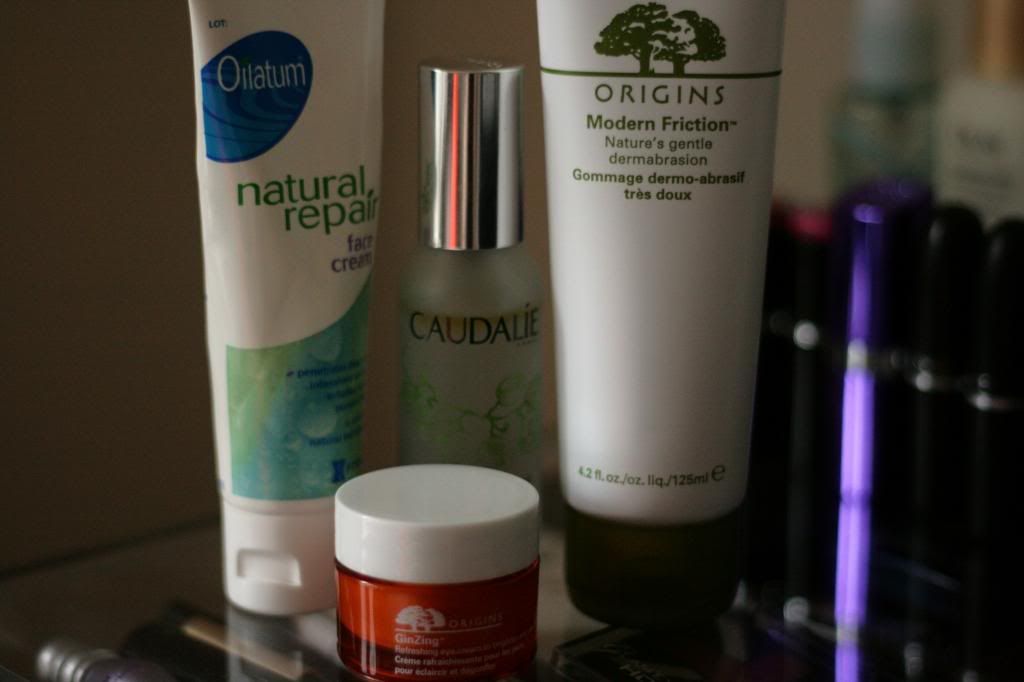 Last week I had a horrible cold and my skin was less then great from the cold weather also.
I thought I would do a little post on a few product's which really helped my skin look and feel less dry and more bright and healthy.
I first started out with my Origin's Modern Friction scrub to get rid of any dryness and give my skin a nice exfoliation, just make sure if you use this you stay well away from the eye's (I know this sound's a bit obvious) but I stopped way below my eye's and the little bead's still managed to sting my eye's. Trust me, when it sting's it sting's bad with this stuff.
After I take this off I then spray on some lovely Caudalie Elixir which I really love at the moment, It refreshes and inject's some moisture in my skin and also leave's it with what can only be described as a natural satin glow on the skin. I've even started using this after my make-up to get the natural dewy glow.
Eye cream is next, another brightening product. Origin's GinZing, Something rather needed with how I was feeling and looking. I'm really loving this eye cream lately. I'm loving Origin's in general right now, the two above are my first product's of there's and I've fallen in love with them both, I can't believe I haven't tried Origin's before. I certainly want to try more!
I then finish it off with my favourite moisturiser, Oilatum. This is my go to when my skin lean's more dry to it's usual normal self. I know if I apply this before bed I will wake up with smooth moisturising skin. I'm not sure what or how it does it but it really soothes and make's my skin look perfect. I still agree with everything I wrote on my review a while back here.
These product's are all my go to favourite's for brightening and moisturising at the moment, not just for when I'm under the weather but all the time.
What skincare item's are you reaching for?