Back in October I blogged about a few of the red lipsticks I was liking. I was slowly introducing myself into the world of the red lips but all changed when I met the beautiful college girlies and we all jumped in the red lips pool, yes we may even hashtag 'red lip gang' on instagram.
It all started when Erebi and myself were discussing Lime crime Velvetines in class. I remembered the night before discovering a blog post about Topshops velvet lips being a good dupe and with our 10 minute break only a short time away we decided to run walk there on our break. Hannah, myself and Erebi picked them up and the next day we even got Amy hooked.
So now with myself finally being confident enough to wear those fully opaque red lips and very pale skin proud I thought I would do a post dedicated to the red lip gang and my top four go to red lipsticks right now. I switch them up depending on what look I feel like going for that day. No it is not just a 'red' lipstick!
People may think a red is a red and they all look the same, but oh no. Don't even get started on the blue undertones and when people match it to your skin tone. More on that in a future post, possibly? I may also do tips for application.
Instead of just swatching them on my hand, for a change I applied each on so you can see how it truly looks and comparisons.
Mac - Ruby Woo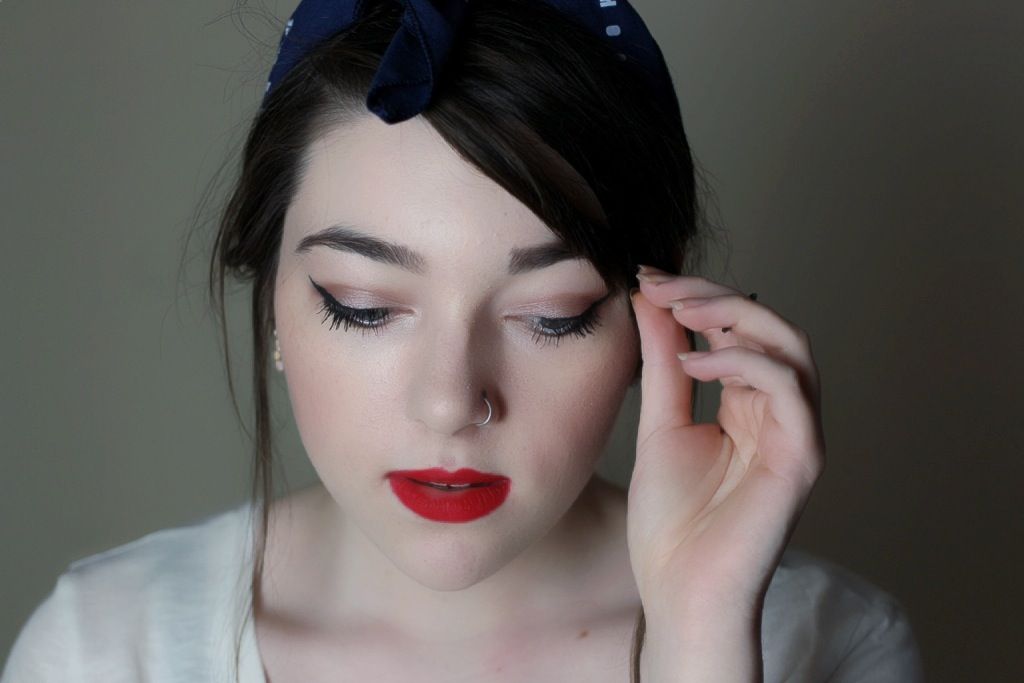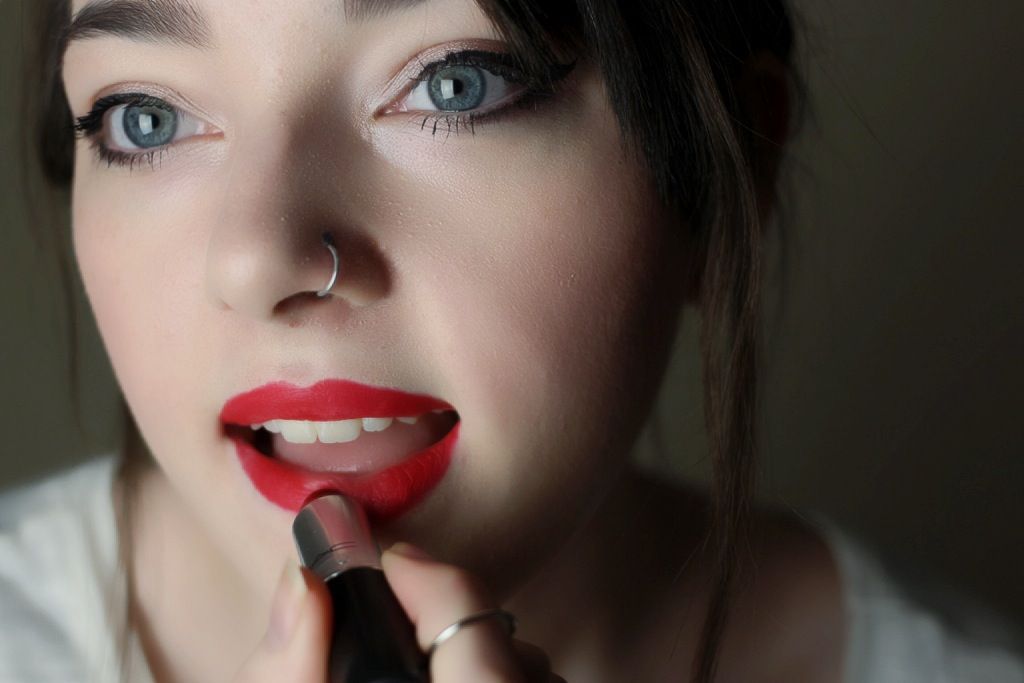 This is thought of the Queen or King of red matte lipsticks. It's the one I instantly think of when people ask about a really true matte red lipstick, especially if you're looking to create that 1950's pin-up look. If you prefer a super matte lipstick (Erebi's personal preference) then this is the absolute rocker of mattes. I personally find it a little tricky to work with and apply, this is the highest diva. Yes, I called a lipstick a diva. I find this needs a little more attention and time to apply. Most reds do, but compared to the others in this post with application it is definitely the most pesky. This is a bright, true matte red. Opaque after a little working in to the lips. I find warming this up a little on the lips before going in for details is best, it is very very drying as mattes are. Lip prep is key for this otherwise it will just look terrible. It shows up every single imperfection. I love matte red's, especially if you have gone a little sparkly on the eyes or just want a statement fully matte lip, it just look's so classic.
Rimmel Kate Moss 01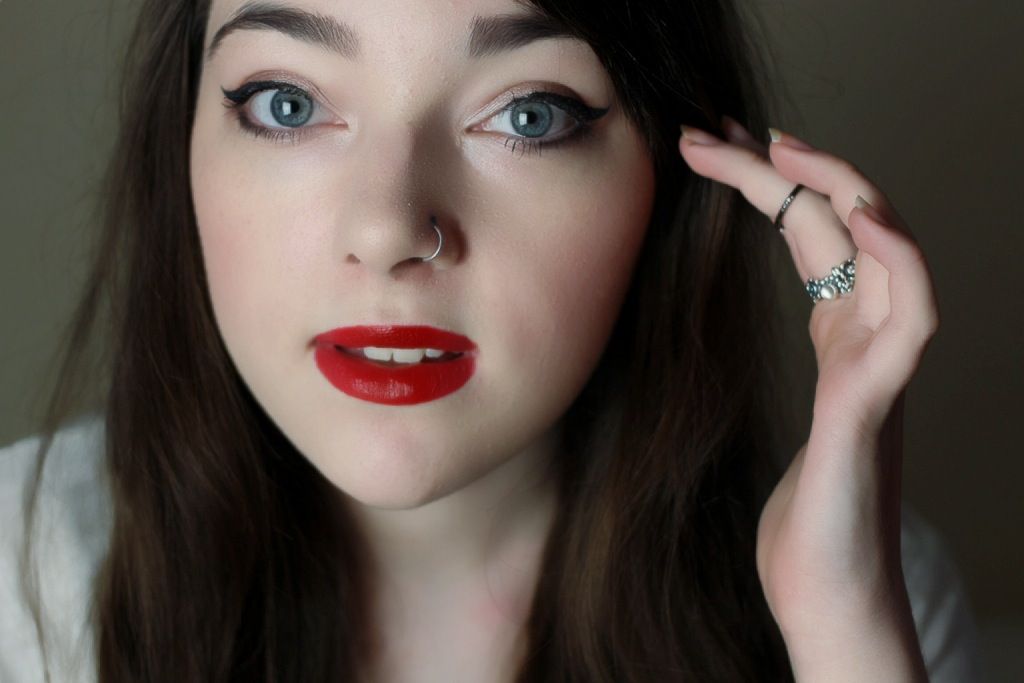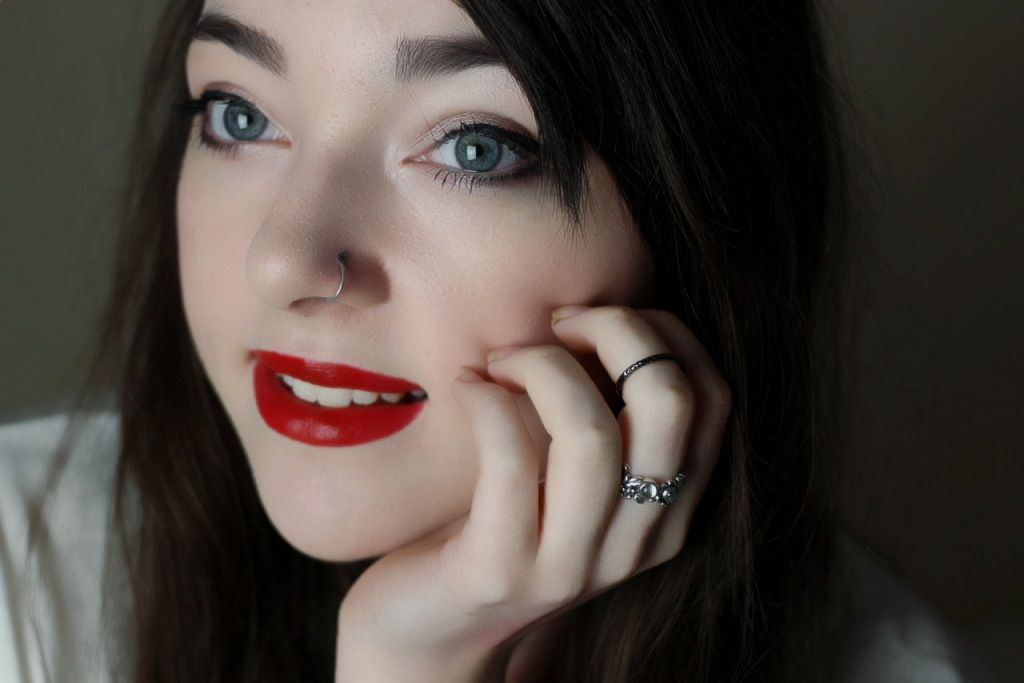 I think of my Rimmel lipstick as my old faithful friend. It's always there when I go back to it and never let's me down. It was the first red I went into the drugstore and impulsively bought, I think I bought it for a party look but I've continued to use it. It's not let me down on all stakes and it's the one I always go back to. If you've seen me in blog posts or in my videos wearing red since before Christmas it's been this. I went through and I still am transitioning through it being obsessed with this lipstick. When I'm going for a night out this is what I grab. I can apply it fast and simply without a lipliner (I know, I know I'm sorry) but when I just need to sweep some on fast rushing for a night out I need not worry about it bleeding or anything like that. This is a lovely bright, slightly dark red and has a slightly glossy sheen finish. It's staying power is brilliant. I apply it before going out and I tend to only re-apply once while out. I also like how it does not dry out when it wares off, you're left with a slight deep red stain on your lips that doesn't show up all the bad parts or dries into the cracks, it just sits there chilling on your lips waiting for you to re-apply and show off those red opaque lips again when you want to. This is still my number one go-to red lipstick and one I would always recommend to those looking for a drugstore, or simply just a red lipstick.
Topshop Velveteen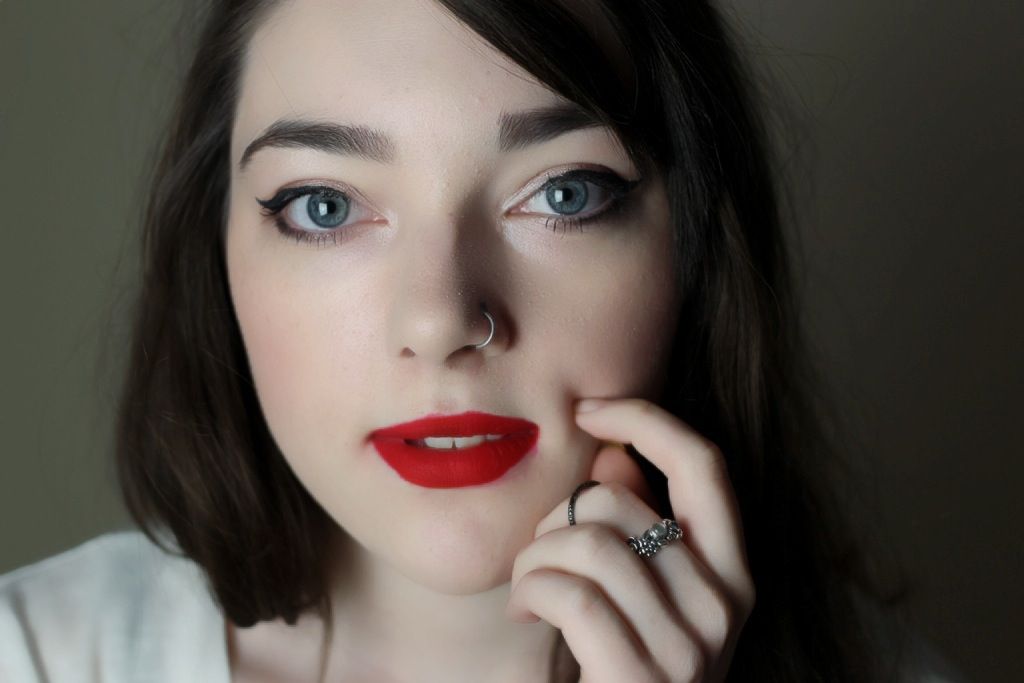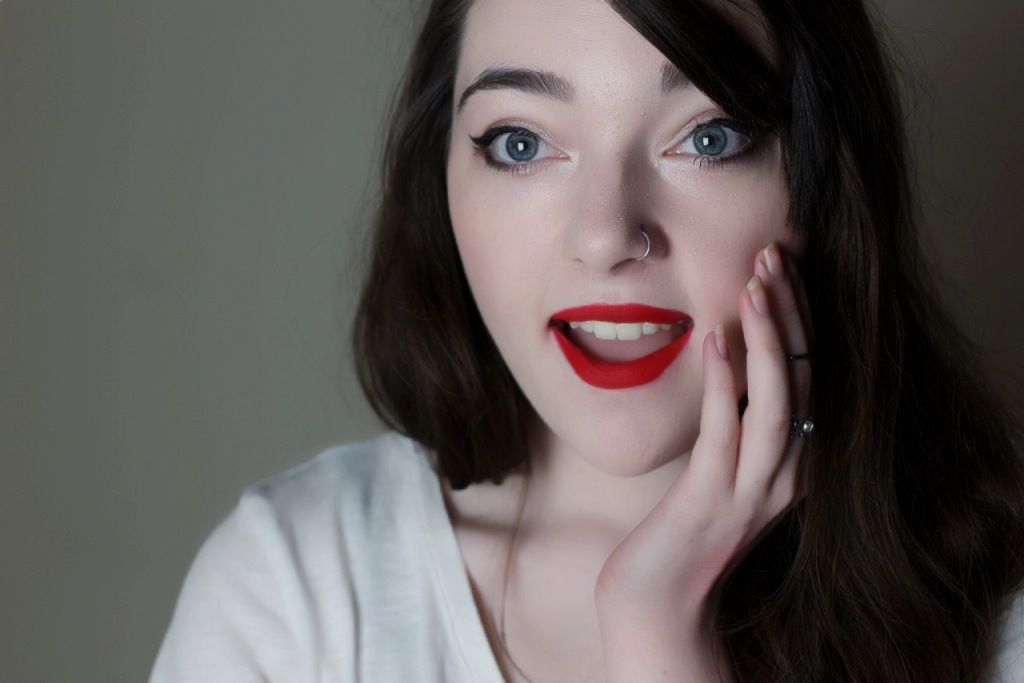 If you are a matte fully opaque lover, stop right now. Go to Topshop and go and swatch these bad boys for yourself. Well maybe finish this post before and then go on a Topshop spree. I would rate this above Mac's ruby woo on all stakes. Firstly; application. These are an absolute d-r-e-a-m to apply, literally perfection. The formula is literally so opaque, thick, creamy and smooth. It truly is like painting your lips in acryllic paint. The formula is so opaque that no amount of words or how many times I claim it's brilliant stakes of opaque-ness (not a word but please, forgive me) you need to see how lovely it is for yourself. It's probably the most easiest in application (sorry Rimmel but you're close on standard lipstick bullet stakes) it has a doe foot applicator like a lipgloss so you can really get in the corners of the mouth and make precise edges. One thing I'd comment on with these are, they are not fans of layering. Say you apply this and go out. Have a few drinks and it wares throughout time, with any other ones in this post I would just re-apply no problem. These I find you need to clean up the remaining product on the lips and start with a fresh application. Otherwise, It goes darker and a very weird finish, bit of a mess. Because of the fully opaque one coat I don't layer this anyway, but it's just a note for re-applying throughout the day or night. It dries really fast on application so do not hang about with this, it does not wait for anyone! It's nice if you're in a rush and you don't need to worry about it transferring anywhere. It turns from a standard looking gloss from the tube and magically turns matte on drying. This is so perfectly matte. I first applied this and just stared at my lips. I couldn't believe just how opaque and matte it was, my lips looked like a dolls perfectly painted on red lips. No dry cracked horrible finish that usually comes from stereotypes with matte lips. It's such a smooth lovely formula and the easiest to work with. I love love love this. It also comes in a dark purple (Which Hannah rocks so so well) and also a black.
Rimmel Apocalips in 'Big Bang'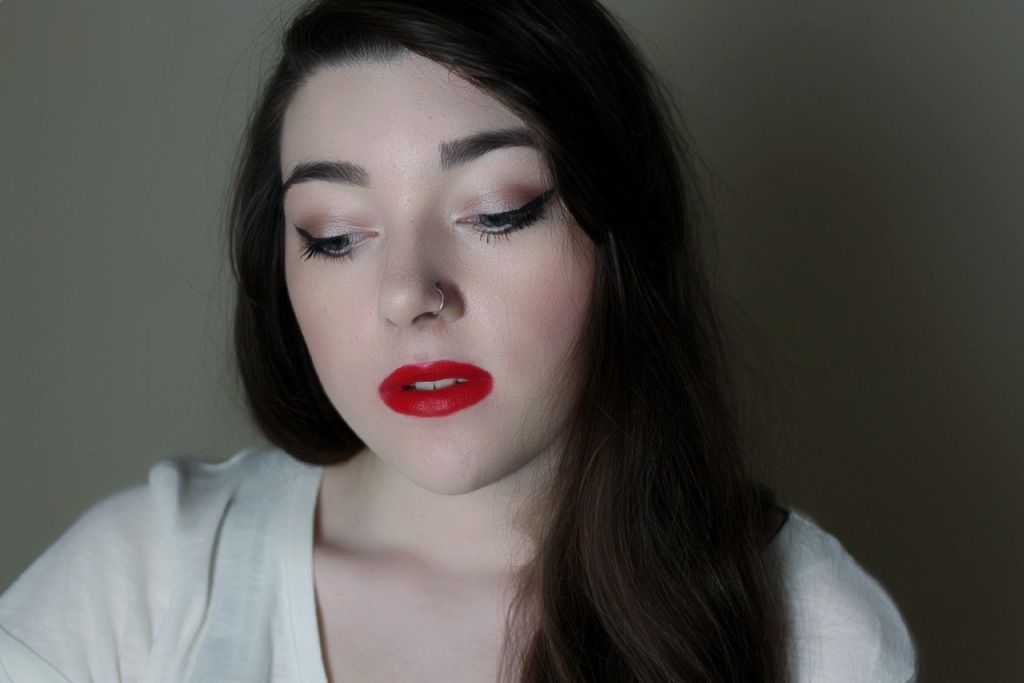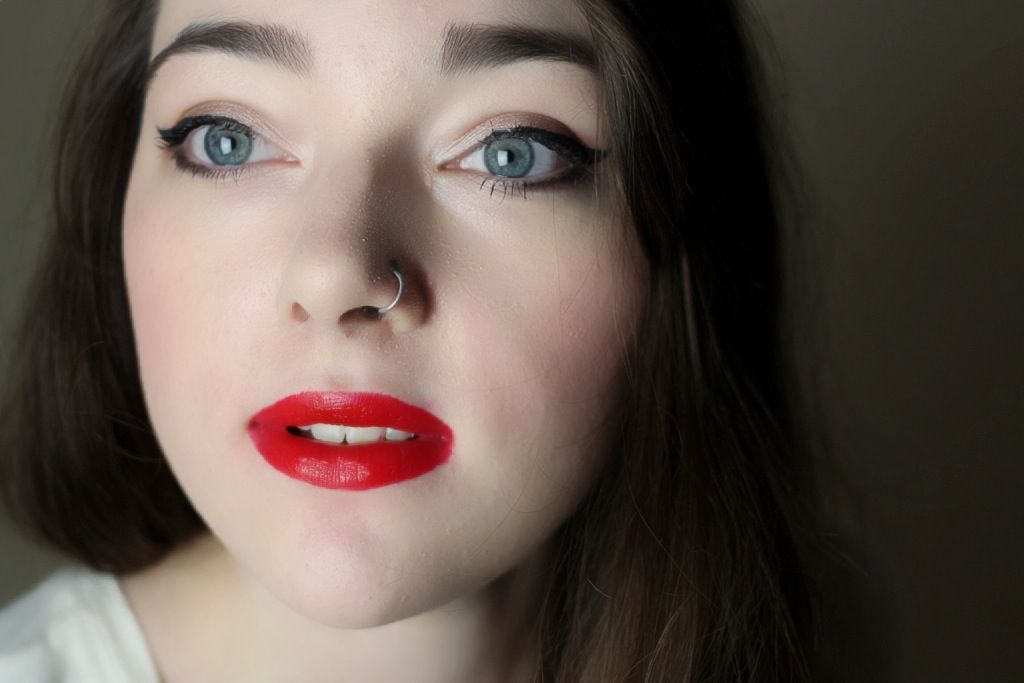 Introducing my newest addition to my red lip family. I never got in on the hype when these went mad in the blogging world. I did make a mental note that I always wanted to try them out one day.
I always used to buy the latest product when I started blogging but that can get expensively crazy and I always found what works for one person doesn't work for me. I bought this in Boot's the other day for Fridays night out because I was missing a glossy opaque lipstick and this came to mind.
Drugstore brands are so so good now that I'm not really fussed with big brands and I never really have been, though they are lovely for a treat.
This is lovely and opaque and super shiny and glossy, I love the glossy red look. This would also look lovely layered on top of any of the above I mentioned for a super opaque gloss. The staying power on these are dis-heartening. Glossiness is to blame. Can not have it all ways. I found myself re-applying this 3-4 times on the night out, which when you're trying to enjoy yourself is super annoying. I also found it transferred and got on the teeth (not the most attractive of looks) so easily as well because of the glossiness but that's self inflicted. I don't usually have this problem with any of the above, especially the Rimmel one so it was a tad annoying but I still really love this lipstick. It is like a liquid lipstick with a super shine of a lipgloss.
For anyone wondering the make-up I am wearing in these posts, I will have a 'make-up of the evening'
post coming up soon! It's been such a long time since I posted any.