It's been a while since a beauty based post has found itself on my blog, but I did mention in a post a few months ago how much I loved this foundation. So much so, I thought it deserved it's only little post.
I included it as the foundation I wore in this and this post.
It's become a little of a Christmas tradition/treat for my mum to treat me to a 'high end' foundation for Christmas. I don't tend to wear it that often day to day, more of a special occasion foundation. I fell in love with this though.
I wanted to get shade matched at the Bobbi Brown counter when Christmas shopping because I'd heard a lot about their foundations and being light enough for pale skin.

I let it 'sink in' and went around the shops. Mum commented it made my skin look really nice, and I even though I was attempting to talk myself out of it, I loved how it made my face look. Alas, we went back at the end and purchased it!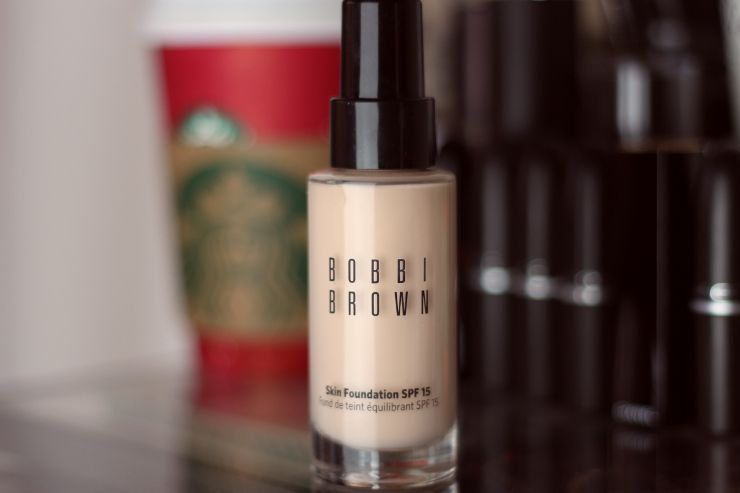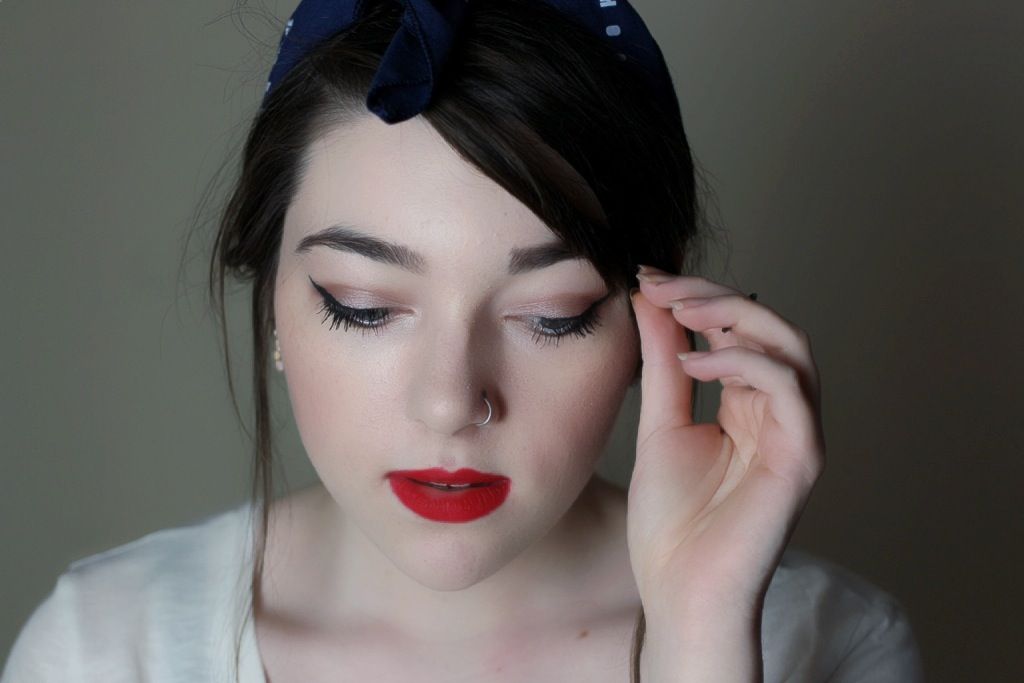 I tend to always automatically start with a moisturiser, being either Embryolisse lait creme concentre or Oilatum, or if not a primer of some sort. I will admit, before I never got into the routine of doing so, but now I always do, it makes such a big difference to the application and appearance of your whole make-up base.
After that has sunk in I dot this around my face and blend in with a buffing brush, usually the Real Techniques one, or I find the Sigma F82 or F80 gives a really lovely finish with this.
The formula of this foundation is very light, almost watery but not watery as in runny, or like Macs face and body. I love just how light this is. I tend to not like any base which I can 'feel' on my skin, which is why I stick to lighter foundations and cc creams. This melts into the skin flawlessly, not only do you forget it's there, but it looks like your bare faced and natural. As the name suggests, it mimics the skin.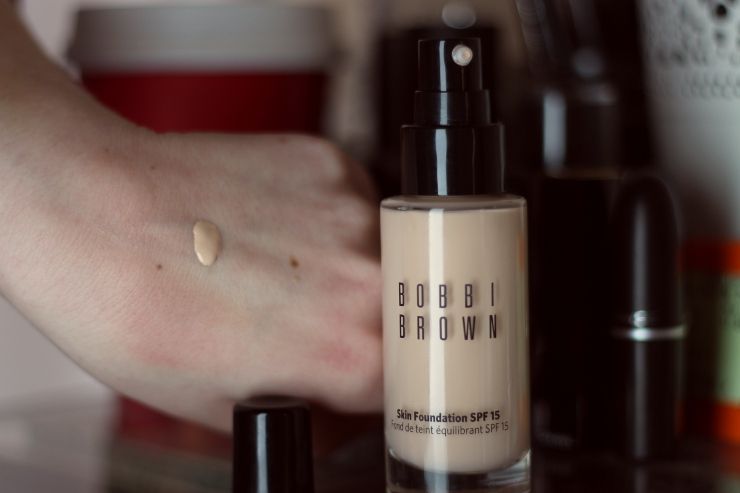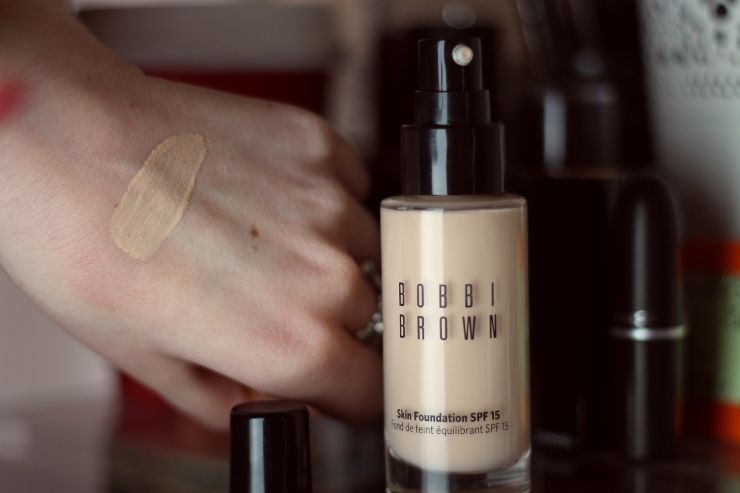 'Bobbi Brown skin foundation in 0 Porcelain'
This is so thin that it melts and blends seamlessly and instantly into the skin. It's so invisible to detect when wearing it, a* for looking natural, which I love. I only need the tiniest amount where it is so thin. I assumed, being so light it would wear off and not last all that well for an evening or partying. I was proved wrong. I can apply this and it will still ensure my face is still looking lovely by the end of the night. I find it just gives such a blur to imperfections and an almost flawless finish, add a powder and it will make your skin ever so flawless.
This leaves a dewy, satin finish- something which I really like in a foundation personally. I have normal skin which gets a little bit dry in the colder months, I do find this foundation can get a little too dewy for my liking on my nose which I don't like, I tend to powder my nose and leave the rest of the face, to get the dewy finish I like. This may be something to consider if you have more oily skin, if it does this on my normal/dry skin type, it is definitely hydrating, which I like.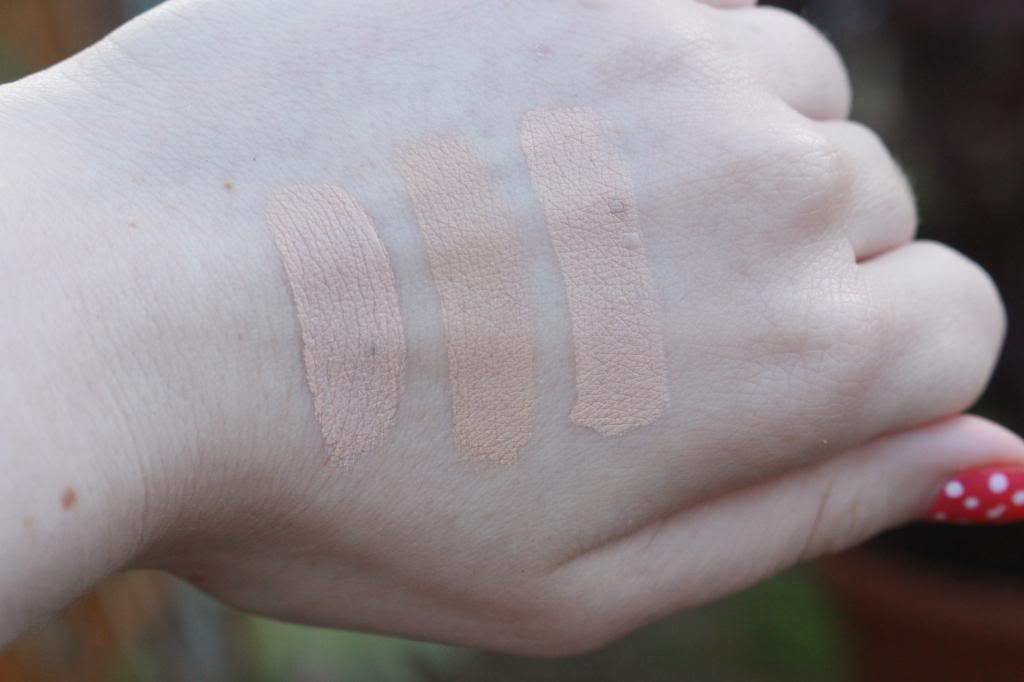 L-R; Revlon Colorstay in Ivory, Bourjois Healthy mix '51', Bobbi Brown skin foundation 01
I really love this foundation, I would definitely recommend it to anyone looking for a lightweight, yet flawless looking base which literally requires no effort to apply in the slightest. Flawless skin within minutes to apply? yes please!
This is available at Bobbi Brown counters for £30.
More expensive then my drugstore favourite, but well worth it in my opinion. It's perfection in a foundation for me, and a little treat for special occasions. It ticks every box I look for in a base.
Two holygrail base products I now have from Bobbi Brown, what products do you love? I need to try more!