Carrying on from part one (here) of our day at the Warner Bros Studios, after the great hall you are free to browse and completely your own pace. Something we really liked as you can feel you can spend the most time looking at certain favourite things you want to more than others, instead of being pushed along by a guide due to time scales. After walking around the corner, Jack and I pretty much got excited at the fact you could go up and grab a wand and be taught some moves. We may nearly be 20, and in the queue lined up with 3 year old's, but that meant nothing.
We looked rather silly attempting to bust the moves like he who cannot be named. I, chose Longbottom's wand, gotta' love Neville! You just follow along a guy on the screen showing you the moves and then try it out for yourself. A little crowd formed to watch, awkward as we were
t e r r i b l e!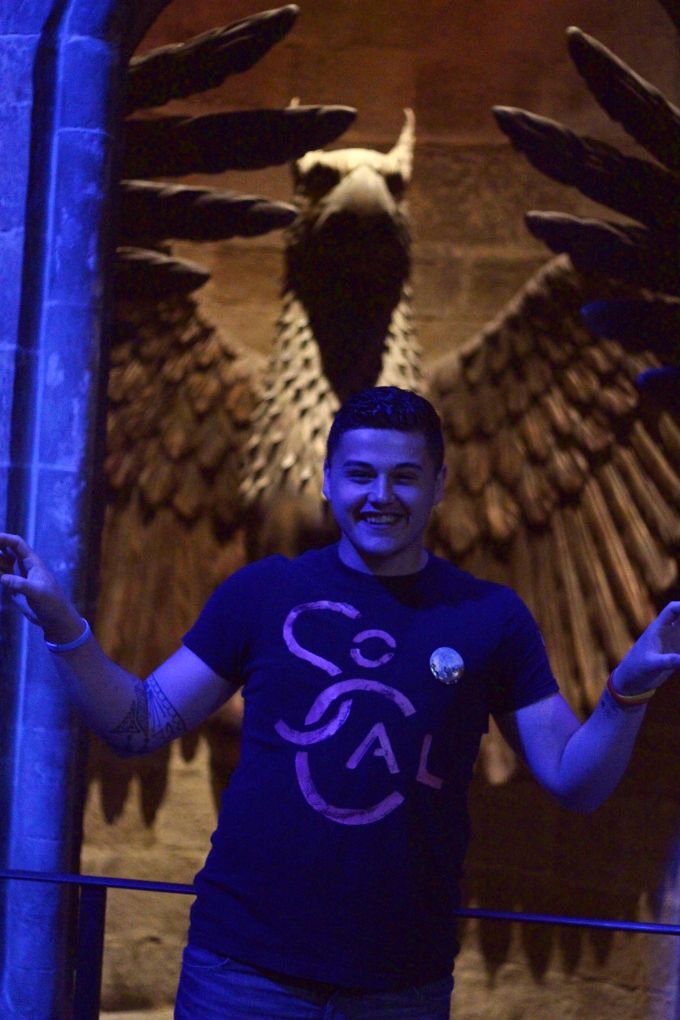 I could quite literally have spent the whole day browsing and looking round. There's so much to take in it's amazing to see. I felt like even though we attempted and got through all of it, there were sections I could have happily stayed to just look at for ages. One of them was the illustration section, full of the 'Daily Prophet' the platform 9 3/4 ticket and so many of the amazing props. I probably stood there for ages just looking and trying to take in all the little details. The hand written letters and Hogwarts wax stamp. It left me feeling inspired, especially with the whole design and concept and time that went into all the work and got me thinking about what I could do to imrpove my own work.
We had to, of course have a go on the green screen, which was amusing. It was really well set-up so you don't tend to have to wait too long, props to the tour!
They recommend the tour takes 3 hours, which is around how long it took us. However, like I said it depends on your preference of browsing, I could have easily spent longer!
I really really enjoyed the tour, It was so amazing to see thing's close up from the movie that you grew up watching, I already planned to go back for Christmas on the drive home, it's a must to see Hogwarts covered in snow!
After, we grabbed a cheeky drink from Starbucks. And, Jack being Jack had to ask for our names to be 'Ron' and 'Heromine' which the baristas found highly amusing, especially when the lady went to shout out the names and half way through realised.